Super proud of how my studio is coming along.
I never thought I'd have a home recording studio. Then there was a pandemic.
Where I'd been traveling to California to record LinkedIn Learning courses 3-4 times per year, recording 2-3 courses per trip, I was suddenly reduced to no travel.
I started recording at home, screencast recordings only, without me on camera. That's when we thought maybe we'd be able to resume in-person recording in the fall.
Now we're experimenting with on-camera recording. I know nothing about cameras, video, sound, lighting, or anything else in that realm. But now I have free consulting from some very talented LinkedIn Learning staff, who are able to recommend equipment, walk me through setting it up, and helping me look and sound the best I can.
I can't imagine that we'll be back to 100% on-site recording at LinkedIn when the pandemic is over. A home studio becomes an asset that I can use in many other ways going forward.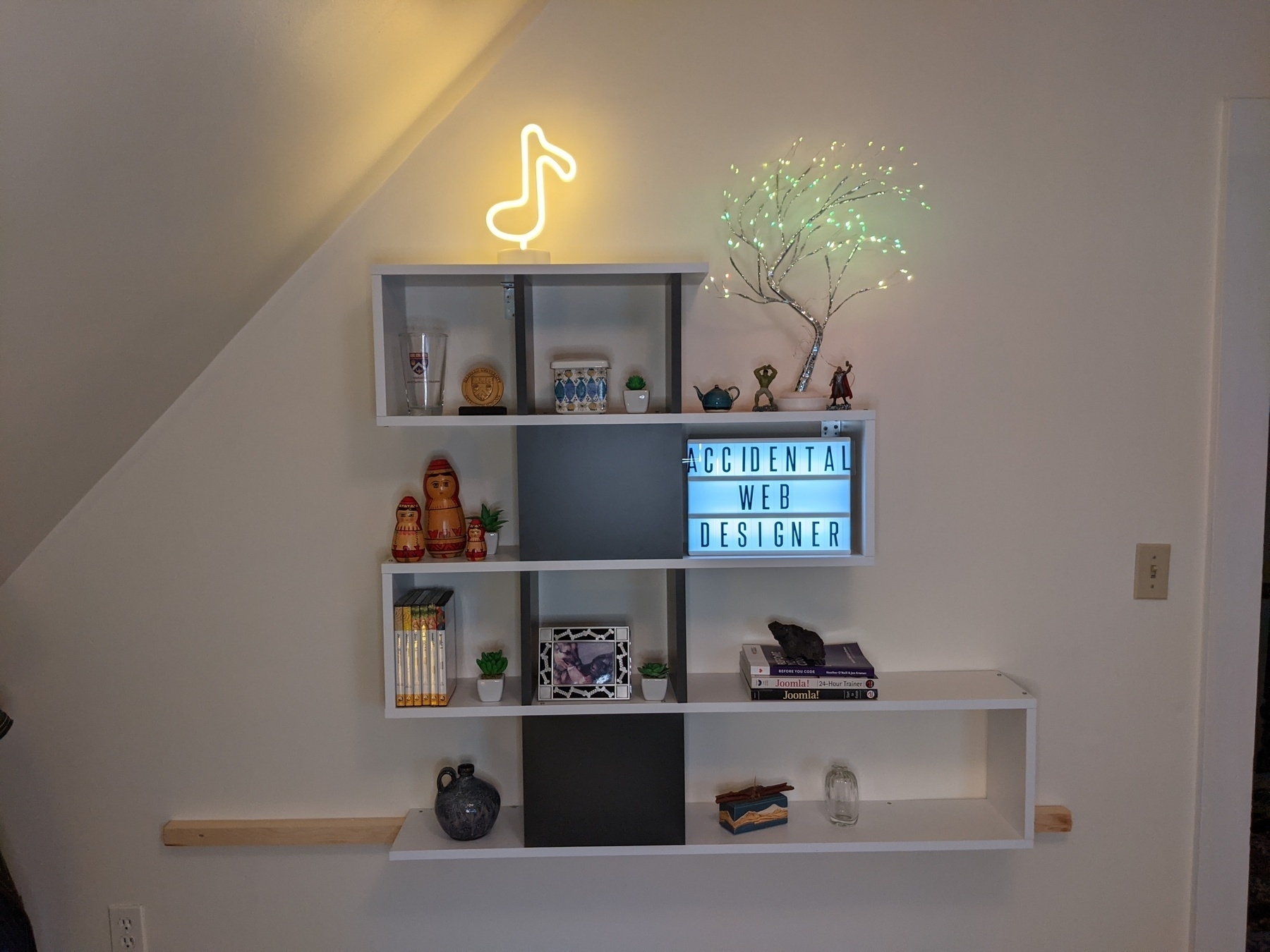 About the shelf
[The shelf] (https://www.wayfair.com/furniture/pdp/hashtag-home-dakota-geometric-bookcase-w001787825.html) has been so much fun to assemble. I bought it for this purpose, so it's fun and different. It's mounted on the wall with some brackets and a support board.
The items on the shelf are things from around the house, plus a few items I bought especially for this purpose.
Things bought specifically for the shelf:
Other shelf additions:
My Shattuck Teaching Award from Harvard, and an Extension School glass
A ceramic box from my maternal grandmother
Hulk and Thor USB drives, and a tiny pottery teapot ornament
Russian nesting dolls, brought home from the USSR by my paternal grandparents in the 80s
DVD versions of some old Lynda.com courses
Photo of my old German shepherds
Copies of all three of my books with a very cool lava rock
Pottery jug from North Carolina, bought while traveling with an old friend
A ceramic box from my parents and a handblown glass vase from an old friend